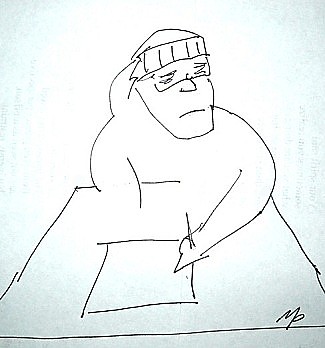 GLORIOUS DEFEAT

All the armies of the world
have hobbled across my chest
in a march begun
by the first Sumerian king.

I lie here on the earth
bleeding from the wounds
of every warrior ever injured,
rotting in the sump
of their accumulated rage.

In such terrific loss
we find sacrifice--
the glory of sacrifice--
and feel gifted by the glory.

But glory canít stop the wounds
from bleeding...

and though some of the wounds
do appear to be dormant
--perhaps healed--
a new wound always threatens
to open one of the old--

when is a wound truly healed?

I apply prayers to every wound.
I pray all day long, all night long--
all through my dreams--

but of course,
we all pray--constantly--
for the wounds. Even those
who have yet to confess
the wounds to themselves--
in their sleep, they pray.

Some celebrate the wounds.
Others jest. Their laughter
only makes sense
when you consider
the power and the pain of the wounds.

I believe I can
eventually decay my way to freedom:
give enough of my harvest body
to the hungry black earth engine--
give enough of my gold fire heart
to the white sword sky--give enough
in the struggle to humble myself down--
give until Iím finally forced to surrender
this turmoil of sadness
and will allow my beaten fists to open,
to release the sun and moon--the sun, the moon
of my birthright.

Then the wounds I carry will have truly healed--
or at least, healed enough not to feel threatened.

Such glorious defeat will bring
a penumbra of understanding
around the shadow of my world--
enough light to reveal to me the need
behind all the wounds bleeding--
a lesson
first put into motion
by the marching soldiers
of that wounded / blind
Sumerian king.
© 2009 Michael R. Patton go back