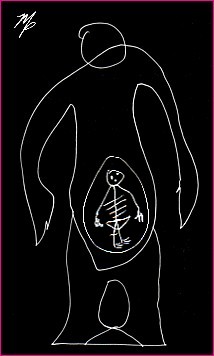 MATERNAL TENTACLES

Our forerunner
--Lucy--
was discovered in
an African savanna,
but recently
I looked down, peered within
and found the tiny skeleton
in my lonely wicker basket.

But I haven't told anyone yet--
consider my circumstance:
me, a man--hailing at some distant time
from the Caucasus mountains--me, a white man
carrying
a small black
woman-child
in my belly--?

Yes, I am pregnant
but the maternal shock brings up
the best protective instincts--
Iím determined to return
that fragile fetus
to life.

As I soothe her in my sling,
I can now identify with all
the other mothers
that lactate in the soul.
Yes--

I can feel my milk
slowly expanding--
I can not stop this spill--
I can not stop without drying--
I can not stop this spill
from spreading its tentacles
--albeit, tentatively--
beyond the borders of my domain--
desirous of touch, yet
still afraid:
my feelers have encountered
blunt objects before
and been
blunted.

But as I continue
this fledgling spreading
I believe Lucy will lose the grayness
around her lips
and the snail color beneath
her fingernails
will bleed back to pink.

Then I can open
this box without fear
of destroying her

so we can finally
recommence
our dance
in this fertile desert.

As the moon
reflects the sun...

our bright play
will sing
a night song.
© 2008 Michael R. Patton go back